Preservatech Microclimate Generator for Museum Showcases
---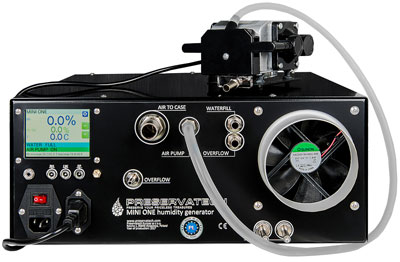 The Preservatech Mini One is a miniature humidity control device for museum showcases and storage enclosures. IQ Direct has developed an Electronic Controller System for Mini One products along with Web Monitoring Software. Mini One is robust and extremely efficient unit which can reliably control humidity in individual or multiple enclosures.
This microclimate control system will typically maintain the preset relative humidity level in a sealed museum enclosure which, (in general) does not depend upon the ambient temperature conditions and enclosure construction.
Each machine is equipped with build in data logger. RH data is written on SD card which can be read in Preservatech software or any other program able to read csv files.
Controller features:
Accurately control humidity on new, retrofitted, or imperfect showcases
Unique constant RH and volume input creates very stable environmental conditions
Calibrated, digital humidity and temperature sensor
Output sensor location guarantees accurate delivery humidities
Internet monitoring.
Electronic control system automatically adapts to any enclosure size
Suitable for humidity control in nitrogen supply (low oxygen) applications
Powerful standard components (no upgrades necessary)
Multiple unit applications