IQ Direct Inc, performs complex outsourcing development services for small and medium business in the fields of business automation, development and implementation of electronic devices and applications. As a team of certified specialists in the fields of analog and digital circuits engineering. We also implemented custom software projects. Our fields of expertise include electrical engineering, electronic design outsourcing, custom software development outsourcing, embedded, firmware development, mobile development, product development, contract manufacturing. We use programming technologies like C, C++, C#. Develop for Web, Desktop, Android, iOS.
For all of the reasons mentioned above, we're really excited to have been included in the directory of Top Internet of Things Companies on Clutch.co, the renowned research, ratings and reviews platform for technology development, marketing, design, digital and related business services agencies. Clutch is different from other B2B platforms out there because of its proprietary research methodology combined with analyst-conducted, full-length, verified reviews or case studies on the B2B collaborations the featured companies have previously worked on. In this way, the directories highlight agencies from all over the world sorted by category/service that are a best fit for their users or potential clients searching for new B2B partners.
We are very grateful to our most valuable customers from California, New York, Georgia, Canada, Poland for our fast growth. We successfully developed several hundreds of electronic devices of various complexities. Check out what two of our esteemed clients said to Clutch's analysts during their phone interviews to produce our 5.0 star reviews: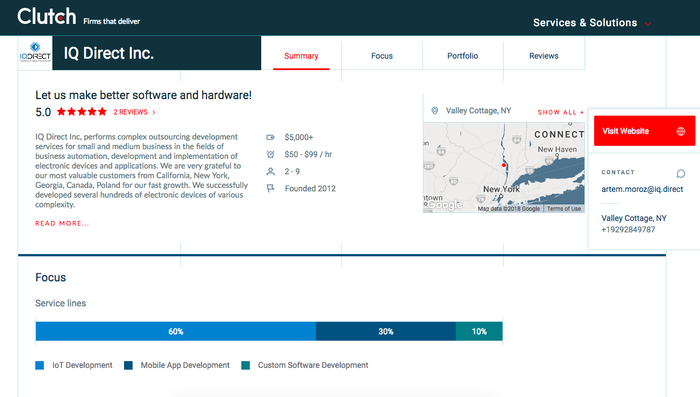 They were extremely knowledgeable and valued communication…. Very pleased with the work provided. CEO & President, Internet Technology Group, Inc.
They do good QA testing, which makes the bugs minimal. The team also is effective with complex processes. Communications and adherence to deadlines have been great. The only delays have been due to scope modifications. They handle software logic better than anyone else. - COO, Consumer Goods Company
We're are thrilled to collaborate with more amazing companies like theirs. Our team looks forward to new projects and successful collaborations like these. To learn more about our services, don't hesitate to visit IQ Direct's Clutch profile!