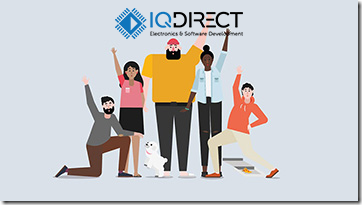 According to the US Department of Labor, poor hiring decisions cost companies 30% of their first year's earnings. For a software development manager, this means knowing what good habits you want your team culture to be proactive before interviewing candidates.
In addition to creating effective recruiting methods, it is also very important to establish a team-oriented work culture and encourage mutual cooperation.
What is the most important factor to consider when building a good software development team?
Building a great software team starts with having effective hiring methods. Hiring the professional people at the right time to get the right opportunities can nurture people, build teams and bring success to the company.
Encourage all the employees at every level to research and keep up with the times for ideas and strategies to get our products, teams and organizations to their best.
Promoting a culture of empowerment is essential to having a dedicated software development team. Our team has the appropriate background information about who we are solving the problem for and why it is important. In this case, our team will find out which solution to build and how to build it.
Our goals at IQ Direct are set high and we promote a high-demanding culture of continuous self-improvement by constantly training ourselves. We learn from the mistakes and strive to achieve maximum added value through efficiency and reduced labor.
What challenges we are facing as we expand our software development team? How to overcome these challenges?
As we continue to evolve, consistency is essential. We need to effectively communicate information throughout the team. Leaders often provide the latest information and make sure everyone has the right growing opportunities. This is done through regular eye-to-eye meetings with all staff, voice communication and more.
For cross-team communication, our team organized events that promoted friendship and generated new ideas. Activities include coding challenges, group lunch and learning, performances and telling, technical lectures and more.
What is the most important factor to view at when building a good software development team?
Hiring people with a cultural background is important. Every company's culture is different, so hiring the right people is important, because in high-tech the skills can be taught, but culture is more about who a person (kind or not) is and not easily taught.
Hiring people who are able to communicate effectively with their team-mates is also very critical. Most software development projects require more work than one can complete quickly, so people need to teamwork effectively.
To find someone who can learn quickly and develop software effectively, you need to constantly learn what works and what doesn't work, and then adjust. It is very rare to start with an idea and implement it 100% correctly from the beginning. Instead, standard software approaches such as agile facilitate fast cycles to increase learning opportunities and focus on solving problems that are actually being solved.